Template:Mergeto Template:Cleanup-comics Template:Superherobox
Lobo the Duck
is a
fictional character
and
Amalgam Comics
superhero
who starred in a one-off
comic book
of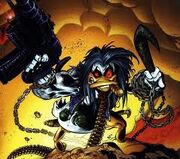 the same name. He is a combination of
DC Comics
'
Lobo
and
Marvel Comics
'
Howard the Duck
.
Plot
The story evolves around fearless muscular anti hero bounty hunter superhero Lobo the Duck and his shape shifting canine sidekick Impossible Dawg, who are investigating the murders of several Amalgam Comics superheroes, including:
Minor characters
Lobo only agrees to find the murderer(s) as the aforementioned heroes had paid him up-front, and soon begins the investigation. Lobo fights his way through Gold Kidney Lady, Doctor Bongface and various other supervillains before he realizes that the end of the world is about to begin, and only he can stop it. (The fate of Lobo the Duck was not revealed, as Lobo the Duck #2 was cancelled before story drafting could be completed).
Throughout the story, Lobo is accompanied by his pet, Impossible Dawg (an amalgam of Impossible Man from Marvel Comics and Dawg from DC Comics), who constantly changes into characters from the Marvel and DC universes in varying shots, including:
Miscellanea
Ad blocker interference detected!
Wikia is a free-to-use site that makes money from advertising. We have a modified experience for viewers using ad blockers

Wikia is not accessible if you've made further modifications. Remove the custom ad blocker rule(s) and the page will load as expected.